Sotheby's
Sothebys.com eCatalogue
Overview
The eCatalogue on Sothebys.com is a primary way for potential buyers all over the world to explore upcoming and past auctions. It is the entire focus of the online experience, the one that generates the most views and the sales.
The main challenges were to redesign the experience for users to find auctions by using a variety of filters, quickly jump in to explore auctions in an immersive way, zoom into the details of a lot of interest through zooming and 360° rotation. We also wanted to expose all the editorial content available around each sale like slideshows, press articles, information about the artists and exhibition dates.
Wireframes
iPad catalogue
Overview
Sotheby's catalogues are the main marketing driver for sales and they published close to 400 catalogues per year. The culture is very immersed in print and each bespoke catalogue takes six months to produce. The goals and objective were to lower print cost, market sales sooner, move clients to digital consumption, and facilitate easier and faster sales registration.
I conducted a discovery phase by interviewing stakeholders, gathering insights, competitive analysis, and cross-platform audits of various platforms and technologies. My team built prototypes that were demoed to the C-suite, resulting in a ten-catalogue pilot. After a successful pilot run, Sotheby's approved digital production of all catalogues.
While we were testing and gathering feedback from the pilot, we worked with the content teams to define processes to move the content creation from print to digital, reducing production overhead and getting the catalogues to market before the print versions. Custom features were added based on client behaviors in the auction room, such as note taking, search, and dynamic price updates.
Sotheby's catalogue app was able to reduce print cost (in the millions) and move more than 50% of customers towards digital consumption, thus increasing awareness and sales registration faster than ever.
As one of first publications to go live with Adobe's Digital Publishing Suite, we quickly become the poster child for the platform. We also helped test a new publishing solution with Sotheby's volume and cadence of publishing. Today, thanks to the success of Sotheby's project, Adobe is now the reigning publishing solution for most major publications, such as Condé Nast, Hearst, Rodale, and much more.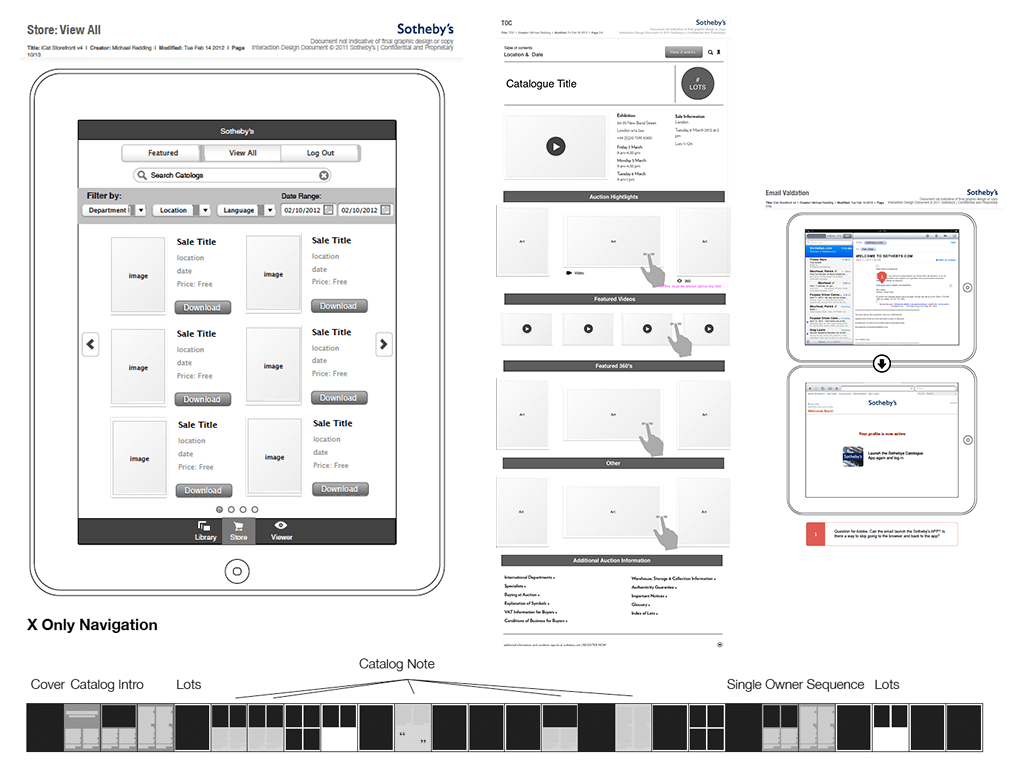 Integrated Campaign
Sotheby's needed to create brand awareness and differentiate itself from Christie's, the other big name in art auction. To highlight the uniqueness of Sotheby's, we lead the creation of a four-part video series, documenting all the parts that make up the Sotheby's whole which ran across multiple channels and touchpoints such as rich media banners, social, media, kiosk, and minisite.
YOUR ART WORLD branded campaign helped drive sales up 30% and increase new client registration up 25%. Conversion and sharing on social channels was a huge success, which helped Sotheby's be top-of-mind over Christie's that year.
Role: Information Architecture, Story mapping, Wireframing, Prototyping, Usability testing, Visual design, Front end development